1987  "The Third Dimension", Kunstzelle Gallery, Düsseldorf
1990  "The Third Dimension", Mayor's House, Essen
1993  "Geometry" (two and three dimensional), Galerie Le Moulin, Mézières-en-Brenne (F)
1994  "The Third Dimension", Arauco Gallery, Nuremberg
1995  "The Third Dimension", Kunstzelle Gallery, Düsseldorf
1998  "Geometry and Neverendingness",  Contemporary Art, Würzburg
2003  "Geometry" (two and three dimensional), Valderhof Gallery, Bergheim-Thorr
2005  "Microcosm", Arauco Gallery, Nuremberg
2008  "Parting", Arauco Gallery, Nuremberg
2009   "The Streets of Buenos Aires",  Photography,
Atelier Bacman, Cologne
2010  Atelier Bacman, "The Third Dimension", Cologne
2011  "Ornament – Encounter with Nature", Atelier Bacman, Cologne
2014  "Ornament – The Language of Geometry", Arauco Gallery, Nuremberg
2016  " The Language of Geometry " Galery  ," Art of Buna ", Cologne, May-June 2016.
Consulate of the Argentine Republic in Bonn, November 2016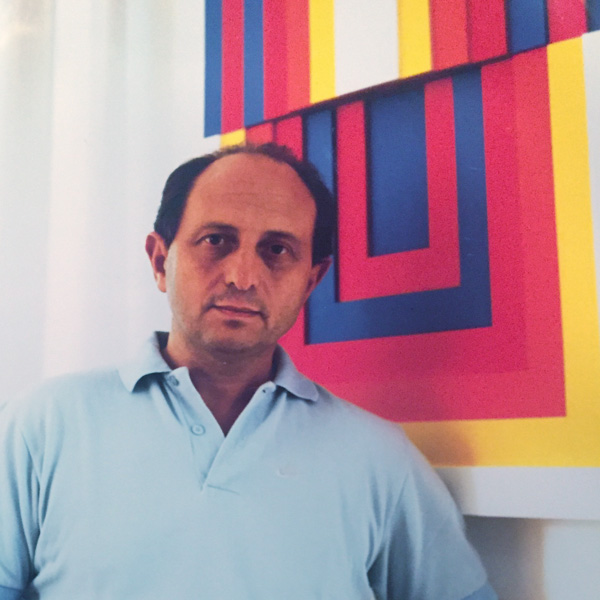 1984  "Malkasten", Visual Artists Society, Düsseldorf
1988  "Kunstzelle" Gallery, Düsseldorf
1989  "Argentine Culture Weeks",  Weiterbildungszentrum, Düsseldorf.
1990   Staatl.-Eifel-Gymnasium Neuerburg.
Werner Wollersheim Gallery, Köln
1991   "Impressions", Valderhof Gallery, Bergheim-Thorr.
"Allée des Arts – Le 13e Art Exposition, Paris, France.
"Christmas Exhibition", Valderhof Gallery, Bergheim-Thorr.
1992  "Contemporary Argentinian Art", Weiterbildungszentrum Düsseldorf.
"MEBAC 92", Contemporary Art, Galerie Le Moulin, Mézières-en-Brenne, France
"America 92" – Painters of Latin America, Exhibition
Hall of Work and Culture, Bordeaux, France
1996   "Retrospektive – 3 Jears Arauco Gallery", Nürnberg.
1999  "The Gallery's Artists – 6 Years of the Arauco Gallery"
2003   "Retrospektive -10 Years of the Arauco Gallery"
2008  "The Gallery's Artists – 15 Years of the Arauco"
2013  "Retrospective – 20 Years of the Arauco Gallery", Nuremberg
2015   ""The Language of Geometry", Agora Gallery,
Chelsea, New York
Frame Art Gallery, Miami.
2016   " The Language of Geometry ". Agora Gallery, Chelsea New York
Frame Art Gallery, Miami
2017.  ''  The Mystery of Geometry ''.  Agora Gallery, Chelsea, New York
Frame Art Gallery, Miami
2018.  ART. PROJECT NEW YORK.
( March) –  Stricoff – Gallery NY
ART EXPO NEW YORK  ( April ) Art Fair
ART SPECTRUM MIAMI. –  ART BASEL MIAMI WEEK. (December) Art Fair
2019.  "The Mystery of Geometry", May, The Gallery Steiner in Vienna
"In and Out of the Garden", May,  Agora Gallery in New York.
Red Dot Miami  Art Basel Miami Week Gallery Steiner. December.
Distinctions
First Prize in "MEBAC 92"  Mézières-en-Brenne, France
Public Collection
Musée d'Art Contemporain (Museum of Contemporary Art), Mézières-en-Brenne, France
Documento completo